2nd European Symposium on Ambulatory Anesthesia & Analgesia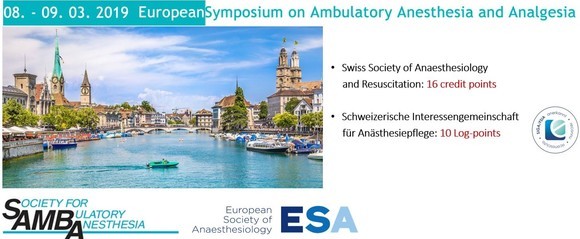 Dear colleagues

We cordially invite you to sign up for our very interesting workshops – packed with informative lectures about depth monitoring, jet-ventilation & ophthalmological blockades, hands on experience in small tutor-student ratio at regional ultrasound, device managements & needling techniques.

CLICK HERE TO BOOK
We are looking forward to meet you at our workshops!
Conox – Smart "Depth of Anaesthesia" Monitor
Brian Oosterhoff & Pablo Martinez will introduce & instruct you in this new, handy device.
Get to know and handle Fresenius' new, non-invasive & fully portable "depth of anesthesia" monitor – Conox.
It measures the two main fields of anaesthesia: hypnotic and analgesia via their qCON & qNOx indeces. With an advanced signal processing algorithm, it enables faster decision making and provides stable and reliable monitoring of patients under anaesthesia conditions. It is designed for the anaesthesiologist to achieve low impedance. Its compact and lightweight design provides hospitals and clinics the flexibility to use it across different wards. At the end of the workshop, you will know how to monitor the Conox to ensure stable and reliable monitoring of patients under anaesthesia conditions.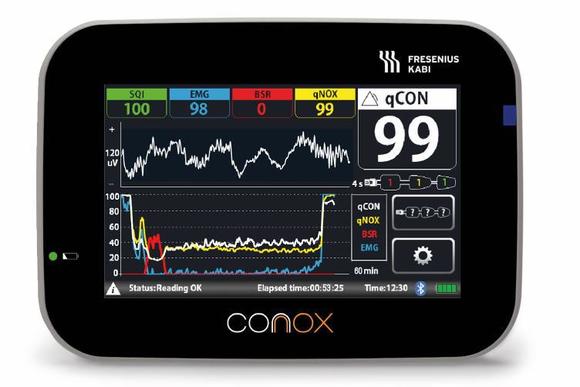 Jetventilation – a new instrument
Led by Didier Moens, experienced promotor and tutor of Jet-Ventilation systems for over 20 years.
Experience the Swiss première for the new MONSOON4 jet ventilator, the latest and most advanced jet device ever.
This practical workshop, based on powerpoint presentation, hands on and pig lung demos, will revisit the physical concepts and concerns of the technique(s).
Interfacing developments in minimal invasive ventilation (as ENT and Bonchoscopy) as in low diaphragmatic motion challenges will be demonstrated and explained in order to understand to full potential of this technique and its brilliant future.
Ultrasound-guided regional anesthesia
led by Gabriella Iohom – Immediate Past Chair of the Subcommittee on Regional Anaesthesia of the European Society of Anesthesiology (ESA)

This 2-hour regional anaesthesia workshop focuses on supervised hands-on needling practice and ultrasound scanning of relevant structures. It capitalises on a low participant: instructor ratio (max 6:1) and real time performance feedback.
Workstations include live model ultrasound scanning of peripheral nerves and fascial planes at the level of limbs and trunk, as well as hand-eye coordination and needling skill practice in a gelatine phantom.
At the end of this workshop, participants would have acquired knowledge of imaging and needling techniques for select regional anaesthesia procedures relevant to their practice.
At the conclusion of the regional anaesthesia workshop, the participant should be able to:
Correctly identify relevant sono-anatomy of select peripheral nerves and fascial planes
Simulate performance of an ultrasound-guided peripheral nerve block in a gelatine phantom

Device training among others with Xperius™ 1.5 – a point-of-care Ultrasound System dedicated to Regional Anesthesia. Jointly developed by Philips and B. Braun, it is designed around you to seamlessly fit ultrasound in your care area.
Xperius's advantages:
Responsive: Excellent ergonomics and high mobility and portability
Advanced: The Xperius™ core imaging technology packed into the transducers provides with a high definition image quality
Simple: Intuitive and easy to use thanks to the touchscreen and gesture control
Peribulbar or sub-Tenon's blocks
Dr Friedrich Lersch, consultant in anesthesiology at Inselspital Berne & Prof Tatjana Josifova, experienced vitreoretinal surgeon, together with Bazil Alteleanu & Yves Perron will lead this hands-on workshop.

This practical course in ophthalmic anaesthesia will teach first and foremost how safe sub-Tenon's blocks are performed on animal eyes. A short presentation beforehand will talk about the anatomy involved and how the pig model can be compared to human eyes. Participants will learn about the double-layer of bulbar conjunctive and Tenon's fascia they need to engage to safely place a cannula in the space between sclera and Tenon's fascia. At "hand's on", participants will be instructed on an individual base how to go about with syringe and forceps. Every participant will learn how to build simple training models for himself or staff in his own clinic from small styrofoam balls or cherry tomatoes. These models are used to train anaesthesiologists and ophthalmologists all over the world. Split pig heads (as available) will be used as training models for lateral canthotomy, a short surgical procedure that saves eyes in case of ophthalmic compartment syndrome, resulting from intra-orbital bleeding. The latter is one of the major complications of ophthalmic regional anaesthesia.
Kind regards

Anita Schweizer
AAA2019 Organisation
Täfernstrasse 16
5405 Baden, Switzerland
info@aaa2019.com
www.aaa2019.com
www.facebook.com/aaa2019symposium
+41 (0)76 240 69 36